Introduction
About PictZar® CDM and PictZar® Professional
This software is an easy to use measurement and archiving tool. It is a highly sophisticated program with measurements that have been built on a solid mathematical basis. Measurements made using this program are highly accurate when performed properly. PictZar® CDM & PictZar® Professional has been tested on the following Windows® platforms: Windows 7 Home and Professional Vista XP Professional, XP Home, Windows® 2000, Windows® ME, and Windows® 98 SE. We prefer Windows 7 or XP Professional.
Intel Based Apple Macintosh running a version of Windows and Parallels will be able to run PictZar®.
When PictZar® is installed, a user manual and tutorial videos are also installed. To reduce the risk of errors, please review this material before using this software. When used properly, studies testing PictZar® have show very high inter-rater and intra-rater reliability.
If you have any questions about using this software, licensed users may contact:
Dr. Martin Wendelken
Phone: 646-220-1745 Email: DrMarty@PictZar.com
Thank you for considering this software

Capturing images is as easy and involves simply using you camera in its normal way. Any digital camera will work. We suggest using the macro function when applicable. Images are taken without regard to distance. A simple calibration will compensate for distance. There are no restrictions. We prefer that you be as close as possible leaving some boarder on all 4 sides on the image.
Please take your image 90 degrees to the subject matter as shown: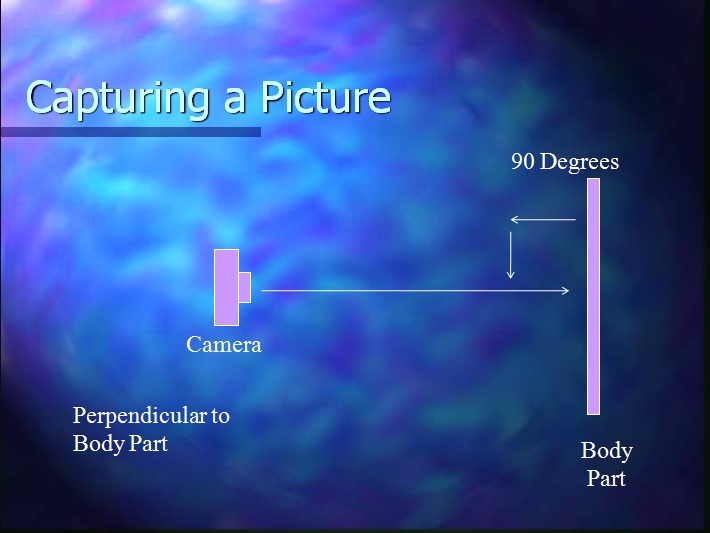 Calibration Using Ruler
To Calibrate a ruler of usually 3 cm is captured within the picture. A simple dragging and dropping a line to the ruler will provide the software with the information it needs to provide accurate measurements. Note below the PINK LINE on the RULER.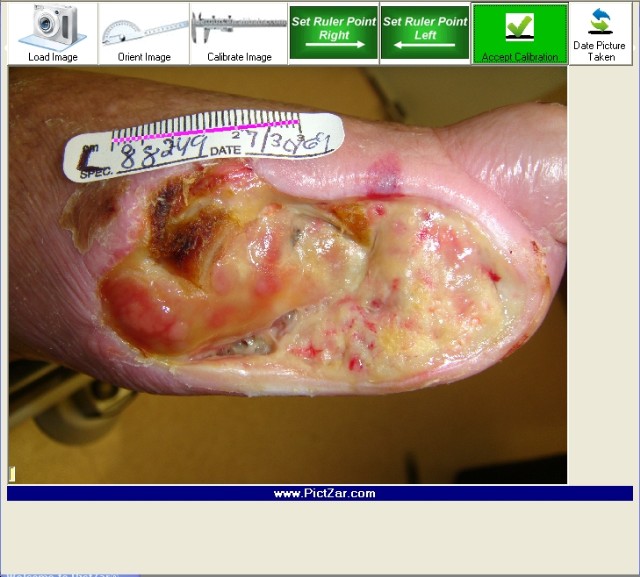 Once Calibrated- "YOUR READY TO MEASURE"