Testimonials
By BioVisual Technologies, LLC
Wound Measurement is Now Accurate and Easy!
Current Users of PictZar® Include:
Veteran (VA) Hospitals / Private Hospitals
Wound Care Clinics
Hyperbaric Centers
Hospital Emergency Rooms
Nursing Homes / Rehab Centers
Private Physician Offices Offices
Visiting Nurse Services
Many Colleges for Research
Private Corporations
FDA Studies
---
Walter Reed Army Hospital (Washington DC)
LSU School of Veterinary Medicine
Temple University
National Naval Medical Center (Bethesda MD)
Mobile Hyperbaric Centers, LLC
Cherokee Indians
Cleveland Clinic Hospitals
Advanced BioHealing Inc. (ABO)
Visiting Nurse Health System
University of Texas Medical Branch
Pegasus Biologics, Inc.
Johns Hopkins Medicine
and more............
---
"The FDA has accepted your planimetry system in lieu of acetate wound tracings, which.... are a biohazard and have to be shipped and handled specially..." ABO Inc
"We have been using the BioVisual PictZar® wound documentation program for several years with great success"..... Temple University, Phila, PA
"PictZar® has provided us with a cost-effective method for documenting the qualitative and quantitative characteristics of a wound. This technology provides us with a consistent method in measuring the wounds where previously the results were highly variable..." Phelps Memorial Hospital, Tarrytown NY
"Using PictZar® CDM Software, we are able to provide real-time images and measurements as well as color images documenting wound progress inclusive of volume..." VNHS Georgia
" Our department just recently purchased PictZar Wound software and we love it! We use if for the documentation of all our wounds in both the outpatient and inpatient areas...." Grove City Med. Ctr.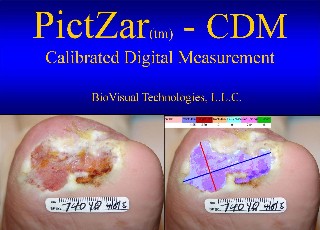 PictZar® Sample Images
More Information / Order PictZar™ Software
--------------------------------
--------------------------------

Tablet Interface for PictZar™
-----------------------------------------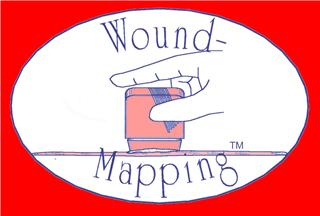 -----------------------------------
Looking For an Ultrasound Scanner?
Click Here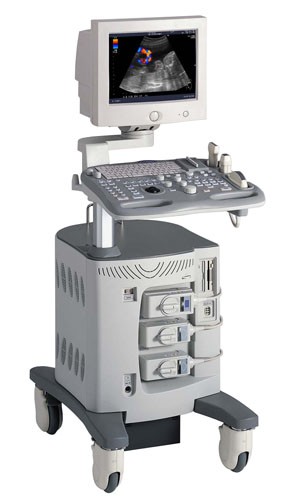 ---------------------------------